Customize Your Handicap Shower or Walk in Tub
Your handicap shower or walk in tub does not need to be basic. Aging Safely Baths offers several customization options and models to choose from. Several of the walk in showers and wheelchair accessible barrier free showers have numerous pattern options, colors and can have real tile backsplashes inlaid. When choosing the right handicap shower or walk in bath you'll always want to put safety and mobility restrictions as a top factor. Not only does the bather need to fit comfortably, but they also must be able to safely enter the bathing appliance. Some options are specifically designed for bathers in wheelchairs and have several caretaker features.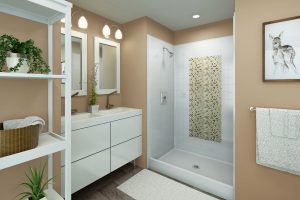 Customizing For Mobility
When taking into consideration the bathers mobility restrictions you will also want to anticipate future changes. How easy will it be to get into the walk in bathtub or shower in the next few years? You don't want to redo this project again because the bathers need changed. There are several important variables to consider. Get a no obligation consultation here to select the best unit for your needs. Placement of safety grab bars is also important for handicap showers and walk in bathtubs. Placing grab bars where it will help the bather get in and out safely is essential. Sometimes it may make sense to have grab bars all over the home and bathroom.
Adding Color to Your Handicapped Shower
The handicapped showers have numerous color options. You can pick the best color for you or get a natural stone look without the high price of real stone. No matter what you dream up, we can make it. Want to add a backsplash to your step in shower? You can choose whatever tile you want and how you want it integrated into the shower. It is popular to add a tile accent on the back wall or even all three walls. Most walk in tubs come in two standard colors, white and biscuit.
All The Options You Want
Our premium quality walk in tubs can come with 30 jet hydrotherapy, cluster back jets, foot massagers, micro bubbles, heated seats, chromatherapy mood lights, aromatherapy, fast drains, safety drains, ozone sterilization, UV lights and even a drink holder. Life is short, you deserve to spoil yourself a little. Aside from peace of mind, you can turn a boring bathroom into an accessible bathroom that feels more like a spa. How would you like to go to the spa every day? Hydrotherapy can have several potential benefits. You should always consult your doctor first to make sure a hydrotherapy walk in tub is right for you. If you're considering aging in place options to update your home, it's important you customize everything based on your current and future needs.
Options For Your Bathroom Size
Doing a major remodel or adding extra space to a bathroom isn't always an option. Aging in place home modifications sometimes have limitations. That's why Aging Safely Baths offers so many different wheelchair accessible roll in showers and step in tubs. Walk in tubs with outward swinging doors might need extra space. Transfer bathtubs have large outward swinging doors, so having a large bathroom is a must. No matter the size of space you have, we will most likely have a few options that will work for you. If you're wondering how much do handicap showers and walk in tubs cost, you can get a fast price quote here or call us toll free 1-888-779-BATH(2284)
Big Walk in Tubs And Roll in Showers
We provide some of the largest walk in tubs and handicap showers you will find. Internal seat widths up to 30.25" on this bariatric walk in tub 3555 model. Making sure the bather will fit comfortably in the shower or bathtub is vital. Not all bathers can fit into a 26" x 45" walk in tub, but for some it is right. For assistance sizing please reach out to one of our friendly representatives today.

Fast Drain And Fill Time
Some of our walk in tubs come with dual drains to make draining a walk in tub really fast. In addition, you don't want to wait forever filling a walk in tub. All of our walk in tubs can have the roman faucet and fill valves customized. Get a 1" faucet and watch how fast it fills up. Fill and drain time can vary greatly depending upon bathtub size, home plumbing restrictions and size of the drain.
Get Your Handicap Shower or Walk in Tub Shipped to You
Aging Safely Baths offers free drop shipping on several walk in tubs and handicap showers to anywhere in the continental U.S. You can also get next day shipping on select models. If you have safety concerns about bathing, you should not wait. For DIY projects, get it shipped straight to you ready to be installed. Homeowners, contractors, and commercial organizations also qualify for free shipping on most products. Get Price.